pdfMachine pro has all the features of pdfMachine office plus the ability to:
Mark-up a PDF

• Place text boxes, text ovals, lines and arrows on a PDF.
• Insert voice annotations.
• Insert text and image stamps.
Tutorials


Digitally sign any PDF.

• Easily sign PDF documents from the pdfMachine menu.
• Have your selected signature automatically applied to PDF's you produce.
• Use certificates managed with Windows.
• Create your own self signed certificates.
• Time Stamped PDF's - have your signed PDF's automatically time stamped by our Time Stamp Authority. more...
Tutorials
• Create "Certified" PDF's. more >>
• Drag the signature to any position on the page.
• Set the signature appearance including images, reason, location, dates and signature details.
• Or leave the signature invisible.
• Server signed PDF's - you dont even need to own a certificate as you can use ours. more >>




Use OCR to create searchable text. Using optical character recognition (OCR) scanned PDFs can be converted into searchable text that is stored invisibly with the PDF when saved. This allows readers of the PDF to search the PDF for the text, and also to copy and paste the converted text.



Embed / attach any type of file to a PDF.



Auto hyperlink generation
pdfMachine will automatically scan the text in a PDF creating hyperlinks when it finds particular words or phrases you have defined. This can be handy for common terms such as company names or products.

e.g. You can setup pdfMachine so that whenever the word "pdfMachine" is encounted in a PDF, a hyperlink to www.pdfmachine.com is created.
Platforms:
Windows 7 / 8 / XP / 2003 / Vista / 2008 / 2012
includes x64 Platforms
Compare office, pro and ultimate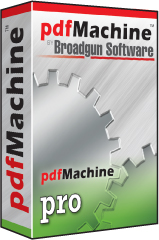 Try it with our free pdfMachine download.
To use pdfMachine without the advertisement being generated, you need to purchase a license and register the software.
If you already own a version of pdfMachine, you can purchase an upgrade